New Buck O'Neil Bridge/US Route 169 Over the Missouri River
On Feb.3, the Missouri Highways and Transportation Commission announced it selected Massman-Clarkson, A Joint Venture, as the design-build contractor to replace the Buck O'Neil Bridge, formally known as the Broadway Bridge. Construction is anticipated to begin in spring 2022 and be fully complete by late fall 2024.
2021 Kansas City District Projects
Looking for more information on a specific project? You can view 2021 Kansas City district projects by visiting our Roadwork by County webpage.
I-435 Bridges Over the Missouri River
MoDOT will be rehabilitating the I-435 Bridge over the Missouri River through 2021. Project  includes bridge deck replacement, reinforcement of structural steel girders and substructure repairs. Work will also include extending the acceleration lane from the Route 210 Interchange to I-435 south. 
Planning Studies
MoDOT's Kansas City District works with local public agencies that receive federal funds through Transportation Enhancements, Off-System Bridge Replacement and Rehabilitation, On-System Bridge Replacement and Rehabilitation, Congestion Mitigation and Air Quality, Surface Transportation Program and Safe Routes to School.
Adopt-A-Highway
Since 1987, Missouri's Adopt-A-Highway program has involved volunteers across the state working together to clean up Missouri. Currently, more than 5,300 groups and 50,000 volunteers in the program are focused on making Missouri's roadsides cleaner and more attractive for our residents and visitors. More than 6,400 miles of roadway have been adopte...
Bidding Opportunities
Want to bid on a MoDOT project, supply request, building contract, training opportunity, property for sale, surplus offer or anything else? This page is where you start. 
As Built Plans
Request as Built Plans/Microfilm
Now hiring!
MoDOT's Kansas City District is currently hiring for a variety of positions. Full-time jobs include retirement, health insurance and generous paid time off. Check out the available positions and apply today. 
Latest Headlines
JACKSON COUNTY – MoDOT Kansas City has opened the newly replaced Baltimore Ave. Bridge over Interstate 670 as of Friday, Dec. 3. The original bridge was closed in the spring of 2021 for replacement as it had reached the end of its service life...

JACKSON/CLAY COUNTIES – The Missouri Department of Transportation will make the following traffic change as part of a two-year bridge rehabilitation project on the I-435 Bridge over the Missouri River.

Crews will close the two left lanes of...
Image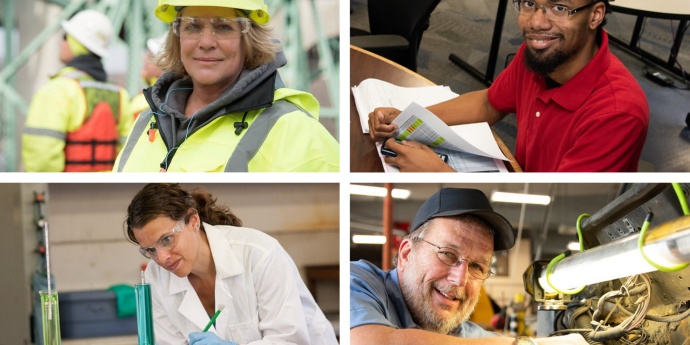 Kansas City Careers
Build your career at MoDOT!
Our mission is to provide a world-class transportation system that is safe, innovative, reliable and dedicated to a prosperous Missouri.
Take a look at current openings in the Kansas City District.
Learn More