2023 Southwest Construction Guide
Interested in major road work in Southwest Missouri during 2023? Click on the Missouri map to learn more about major road projects planned for 2023.  If you want a county by county listing, scroll down or print out the text version of 2023 Construction Guide.  All projects are scheduled for completion during 2023 unless otherwise noted. 
ROUTE 60 AT ROUTE 125 INTERCHANGE IN ROGERSVILLE
This project will build a new interchange at Route 60/Route 125 intersection and build interchange ramps for safe access between Route 60 and Route 125. In addition, it will build an outer road system to between Route 125 and Farm Road 243, if funding is available.
Long Creek Bridge Replacement Project
This project will seek to: Replace the bridge on Route 86 over Long Creek arm of Table Rock Lake with a new bridge located south of existing structure, build new sections of pavement to connect bridge to Route 86, and install new guardrail at the bridge ends.
I-44 Corridor Bridge Bundle Design-Build
Replace or rehabilitate poor or fair condition rated bridges along and within 15 miles of I-44 across the Southwest District. There are 33 bridges in the bundle with seven mainline I-44 bridges, 10 I-44 overpass bridges and the remaining on adjacent routes over various features. Many of the bridges are expected to be  replacements.
Range Line Road/Kansas City Southern Railroad Bridge Replacement Project
This project will replace current Range Line Road (Business Loop 49) bridge over the Kansas City Southern Railroad tracks in Joplin with a new structure that will be two feet higher, 15 feet wider and 27 feet shorter than the current bridge. The project will include sidewalks on either side of the new bridge.
US 60 & Webster County Route A Interchange in Diggins
Project will improve safety and traffic flow by connecting Webster County Routes A in Diggins and Z in Fordland with a new Outer Road south of U.S. Route 60.
Area News
Where: Missouri Route 14 (Mt. Vernon Street) nighttime lane Closures between Rice Street and Smalley Street in Nixa

When: 7 p.m. – 7 a.m. Wednesday & Thursday nights, March 29 & 30

What: Contractor crews replacing a culvert underneath the road...

Where: Missouri Route 59 (Cliffside Drive) CLOSED between Missouri Route 90 and Main Street in Noel

When: Between 12:01-6 a.m., Monday, March 27

What: Contractor crews will CLOSE Route 59 to install new drainage pipes beneath the highway. This...
Image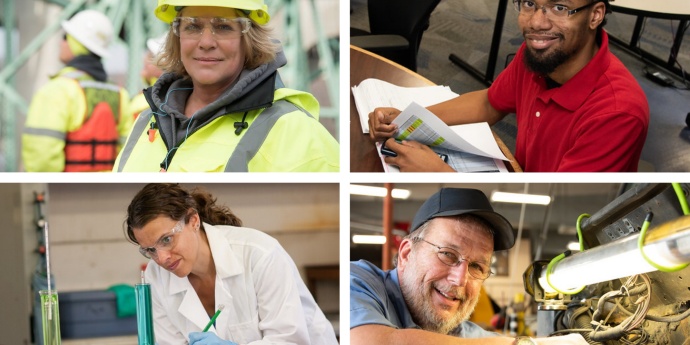 Southwest District Careers
Build your career at MoDOT!
Our mission is to provide a world-class transportation system that is safe, innovative, reliable and dedicated to a prosperous Missouri.
Take a look at current openings in the Southwest District.
Southwest District Job Openings