Image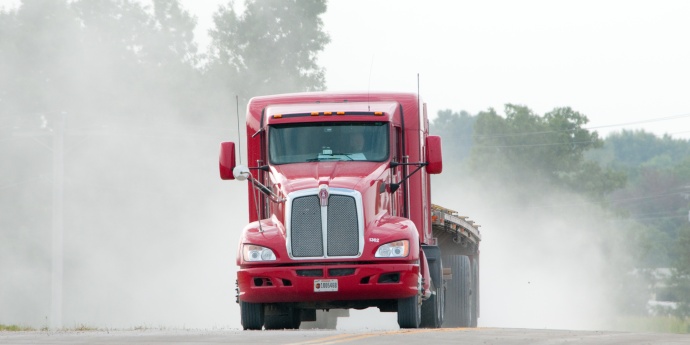 MOTOR CARRIER SERVICES
MoDOT Motor Carrier Services helps carriers get the information, credentials and permits needed to start and continue a carrier business in Missouri.  We also enforce safety and economic regulations to help make our highways safe and fair places to earn a living.
The tools on these pages help both beginners and seasoned trucking companies operate safely and profitably.
SAFETY & COMPLIANCE
MoDOT Motor Carrier Service's Safety & Compliance section encourages compliance with Missouri State Statutes and Federal Motor Carrier Safety Regulations through education and enforcement.
INTERSTATE MOTOR CARRIERS
Motor carriers who are based in Missouri obtain apportioned license plates, a fuel tax license, complete Unified Carrier Registration and obtain other credentials from MoDOT Motor Carrier Services. Most of the programs are renewed annually and most require some form of recordkeeping. See the individual program pages to learn more. 
INTRASTATE MOTOR CARRIERS
Motor carriers who operate only within Missouri's borders obtain operating authority, special licensing to haul houses, household goods, waste products and other credentials from MoDOT Motor Carrier Services. Most of the programs are renewed annually and several require some form of recordkeeping. See the individual program pages to learn more. 
OVERSIZE OVERWEIGHT LOAD MOTOR CARRIERS
Motor carriers that haul loads that are heavier, wider, taller or longer than standard legal limits must apply for a special permit. These permits prescribe specific routes and requirements the carrier must follow when using the Missouri state highway system. 
NEWS ON WHEELS NEWSLETTER
Image
FIGHT HUMAN TRAFFICKING
Human trafficking is a modern-day form of slavery. At its core, it involves the exchanges of goods for services using force, fraud or coercion. Victims are forced into labor or commercial sexual exploitation.
Human trafficking is real and it is a crime.
MoDOT has joined with other state DOTs and the U.S. Department of Transportation to help fight human trafficking.
Resources to Fight Human Trafficking
WORK HOURS
7:30 am to 4:30 pm - Monday - Friday
Full walk-in service from 7:30 a.m. to 3 p.m. with drop-off service until 4:30 p.m.
MoDOT Carrier Express, our online system, is open 24/7. 
Fax Numbers
Oversized Overweight Permits
(573) 751-7408
IRP License Plates/IFTA Fuel Tax
(573) 751-0916
Missouri Intrastate Operating Authority
(573) 522-6708
Safety and Compliance
(573) 522-4260
PAYMENT OPTIONS
Payment in the form of eChecks, credit or debit card can be made online, by phone and in person.
eCheck
Transaction fee: 50 cents
Funds are withdrawn quickly, often the same day
Credit/Debit Cards
Visa, MasterCard, Discover and American Express accepted.
Fees are based on the transaction total. 
| Transaction Amount | Convenience Fee |
| --- | --- |
|  Up to $50 |  $1.25 |
|  $50.01 - $75 |  $1.75 |
| $75.01 - $100 |  $2.15 |
| $100.01+ |  2.15% of the invoiced amount |
Convenience fees are paid to the payment processing company. 
For your security, enter card/eCheck information on the payment screen only. Do not type payment information in any comment or note field or write it on a fax. If you prefer to make payments by phone, enter a note with the name and phone number of the person we should contact for payment information.  
FILE A COMPLAINT
Are you aware of a Missouri-based motor carrier that has violated a safety or operating authority regulation?
We take all complaints seriously, however we caution that knowingly providing false information may have legal consequences.
In order to investigate, we must have all of the following information: 
The name, address and phone number of the carrier in question.
Your name, address and phone number.
A written statement of the situation.

The complaint must be based on facts, not speculation
The violation of motor carrier safety regulations must have already occurred
Provide as much detail as possible, including how you learned of the violation and the date(s) of the violation
If you are prepared with all of this information, please click here to continue.
Complaints regarding motor carriers who operate across state lines are investigated by the Federal Motor Carrier Safety Administration.