Future64 public meeting May 18
If you live, work, play, shop or commute around I-64 between Jefferson and Kingshighway in the city of St. Louis, please share your transportation needs for the area at an open house style public meeting Wednesday May 18, 4-7 p.m. at the City Foundry Food Hall
2022 Major Work Zones
There are many major work zones planned in 2022 around St. Louis city and county, and St. Charles, Jefferson and Franklin counties.  Projects with interstate lane closures or long-term roadway closures are listed on the map at the link below.
I-270 North: Build. Progress. Together
The I-270 North Design Build Project will improve mobility on the mainline, at interchanges, and on the outer roads. It aims to reduce traffic congestion faced by local users and interstate travelers.
St. Louis Construction by Area
View Construction Projects by area in the St. Louis region.
Microfilm Requests
Fill out the linked form to requests copies of available microfilm for state maintained roadways.
Planned events on state roadways
Information on planning events on state-maintained roadways (interstates and state numbered or lettered routes)
General St. Louis Transportation Information
This page hosts information regarding St. Louis area transportation such as the St. Louis area Mobility scorecard,  information about highway features, and contacting the district.
Frequently Asked Questions
Find answers to common transportation questions in the St. Louis area.
Latest News
ST. LOUIS – Motorists who travel on eastbound Interstate 270 near Bellefontaine Road in North St. Louis County should expect delays in the area Thursday, May 19, from 6 a.m. to 3 p.m.

Crews will close two eastbound lanes on I-270 near...

ST. LOUIS – People who use Interstate 64 and the surrounding roadways between Jefferson and Kingshighway in the city of St. Louis may want to participate in TODAY's open house style public meeting.

The Missouri Department of Transportation...
Image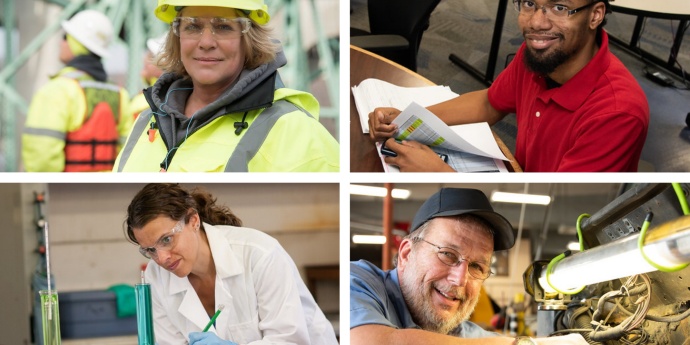 St. Louis Careers
Build your career at MoDOT!
Our mission is to provide a world-class transportation system that is safe, innovative, reliable and dedicated to a prosperous Missouri.
Take a look at current openings in the St. Louis District.
Learn More