Bridges collectively refer to public and privately owned highway, railroad, and pedestrian bridges, viaducts, and culverts. 
Historic bridges are those listed on or eligible for listing on the National Register of Historic Places (NRHP).  MoDOT is responsible for identifying and managing historic bridges associated with transportation projects. A brochure discussing Missouri's historic bridges can be downloaded from HERE.
Missouri's Historic Bridges
Missouri has approximately 25,000 bridges on state, county and city roads. In 1996, a Historic Bridge Inventory was done for approximately 11,000 bridges constructed through 1951. Of these, 399 were considered to be possibly eligible, eligible or listed on the National Register of Historic Places, and were included on the first Missouri Historic Bridge List.
Many of the bridges included in the 1996 inventory have been removed, and many more have reached 50 years of age and need to be considered for eligibility for listing in the National Register. This requires MoDOT to reconsider previous evaluations.
To aid in this, MoDOT has been working with the State Historic Preservation Office, Federal Highway Administration and consulting parties to develop programmatic agreements. During the development of Programmatic Agreements, we study bridges of a particular type, period or related to historic events. These agreements allow us to update eligibility assessments for bridges and expedite the Section 106 process. More information on these agreements can be found below.
Evaluating Missouri's Bridges
Bridges not on the MHB List are evaluated for eligibility to the National Register , in consultation with the State Historic Preservation Office. Bridges are primarily eligible for engineering or association with broad patterns of American history.  A MoDOT project could have "no effect", "no adverse effect" or an "adverse effect" on a historic bridge.
National Historic Preservation Act: Adverse Effect to Bridges
An adverse effect occurs when a project would harm a historic bridge's ability to convey its historic significance. Examples of adverse effects include:
Demolition
Removal from the original location
Removal or alteration of original bridge parts
Introduction of new elements that diminish the bridge's significant historic features
MoDOT makes an effort to avoid or minimize adverse effects to an historic bridge, efforts through redesign of the project. If an adverse effect cannot be avoided, a Memorandum of Agreement is negotiated with consulting parties outlining measures to mitigate the effects of the project on the resource. For more information on the consultation process see information on the Section 106 process.
Mitigation for Adverse Effects
Mitigation typically includes archival photographs, and preparation of a thorough history and detailed written description of the bridge, which are then archived at the state or national level depending upon the range of significance. A reader friendly version of the documentation for the historic bridge that crossed the Blue River along the I-70 outer road (former U.S. Route 40) can be viewed/download from HERE.
Click here for electronic copies (i.e., .PDF files) of MoDOT historic bridge mitigation.
[Note: Not all of the historic bridge reports are listed here since electronic versions have not yet been created for some older documents.]
Mitigation also may include:
Marketing for adaptive reuse at the existing location or at a new location
Dismantling and storing the bridge for future use on another site
Salvaging important historical components of the bridge for reuse as educational or interpretive materials
Reusing salvaged components on other similar historic bridges in need of rehabilitation
An article in MoDOT's Spring 2002 issue of Pathways magazine, "For a Free Bridge Call MoDOT" describes how historic bridges can be given a new function.
Image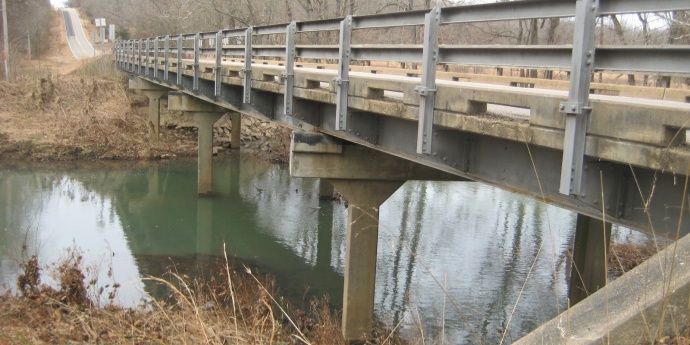 Pre-1945 Common Bridge PA
The Missouri Department of Transportation is developing a Programmatic Agreement for pre-1945 culverts and common concrete and steel beam and girder bridge types currently on the state highway system.
Additional Information
Supplemental Information
Bridges currently available for reuse can be found at the Free Bridge webpage.
Supplemental Information
Data regarding specific bridges throughout the United States is available on the Bridge Hunter website linked below.