Since 1987, Missouri's Adopt-A-Highway program has involved volunteers across the state working together to clean up Missouri. Currently, more than 5,300 groups and 50,000 volunteers in the program are focused on making Missouri's roadsides cleaner and more attractive for our residents and visitors. More than 6,400 miles of roadway have been adopted.
Adopter groups include commercial and private enterprises, civic and non-profit organizations, families and individuals. MoDOT spends about $6 million annually to remove litter from more than 385,000 acres of right of way along 34,000 state highway miles.
Adopters perform about $1 million a year in litter cleanup and beautification efforts. Every area kept free of litter by adopters allows MoDOT to devote resources to other much-needed tasks.
Image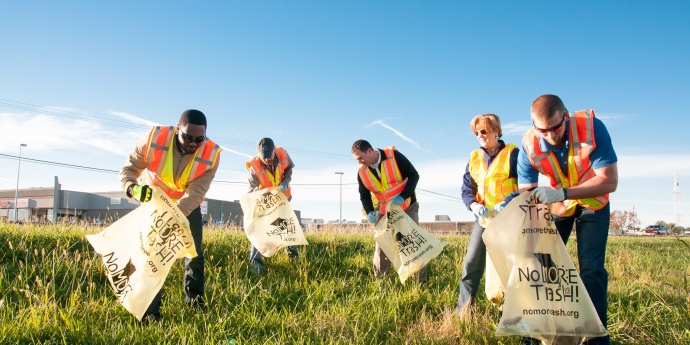 Report Litter Cleanup
Report your Adopt-A-Highway or Sponsor-A-Highway Activity here.
Report Activity
Adopters have four options:
clean up litter
mow
beautify through landscaping 
Grow Native! by planting native Missouri wildflowers and grasses
Litter Clean Up Adopters must:
adopt at least 1/2 mile of urban roadside or two miles of rural roadside
collect litter at least four times a year
sign a three-year agreement
submit an activity report to MoDOT
follow all safety procedures
Image
Adopt-A-Highway Interactive Map
Time to choose where you would like to adopt?  When you find the location that you want to adopt, simply click on the road in the map.
View the Map
MoDOT provides adopters with a certificate of appreciation, a safety training video, safety materials, and a sign with the group's name posted on each end of the adopted highway section. MoDOT provides trash bags and pick up and disposal of the bags of collected litter.
No MOre Trash!
In 2002, MoDOT helped establish No MOre Trash!, a litter-prevention campaign that encourages people to stop littering by educating them about the negative impacts of litter. Unfortunately, the 2020 annual No MOre Trash! Bash scheduled for April 15-May 15 has been canceled due to the coronavirus pandemic.
Types of Adoption and Recognition
Find a list of the ways you can help keep Missouri roadways beautiful through the Adopt-A-Highway program.
Common Questions
Check out frequently asked questions and answers about MoDOT's Adopt-A-Highway Program.
No MOre Trash!
No MOre Trash!, a litter-prevention campaign, is working to clean up Missouri and make it a litter-free state through education, prevention and cleanup programs.
How to Join the Missouri Adopt-A-Highway Program:
Please call MoDOT's toll-free number at 1-888-ASK MODOT (1-888-275-6636) and ask for the Adopt-A-Highway coordinator or email us at aah@modot.mo.gov. 
You can also check our online map for availability of open sections ready for adopting by clicking HERE.
Current Adopters:
Report your pickup activity by clicking HERE.
Sponsor A Highway:
Want to help with litter prevention but would prefer to be a sponsor? Click HERE.
Adopt Today for a Clean Tomorrow: