Counties Impacted
Jackson
Project Status
Planning Phase
Route Impacted
U.S. Route 24
PROJECT DETAILS
MoDOT will be making safety improvements along U.S. 24 between River Blvd. and Sterling Ave.  Improvements include a 5-lane typical section with curb and gutter, enclosed drainage storm sewers, raised concrete islands, traffic signal improvements, and signing and pavement marking improvements. A 10-foot multi-use path is also proposed along the south side of the roadway with a 5-foot sidewalk along the north side of the roadway.
The main goal of this project is to improve safety and mobility along the U.S. 24 Highway between River Blvd. and Sterling Ave. After reviewing the types and locations of crashes within the corridor, it was determined that the best way to address the concerns and improve safety is to modify the roadway to a 5-lane section with a two-way left turn lane. In addition, there are intersections that will be improved with upgrading or replacing traffic signals. In order to improve bicycle and pedestrian safety, this project will include additional crossings at traffic signals, a new shared use path, and new sidewalks and existing sidewalk upgrades.  Drainage will be improved through the corridor. Access to businesses along the corridor will also be improved.
TRAFFIC IMPACTS AND COSTS
Lane closures on U.S. 24 and some side street closures will occur during construction.  Local businesses may see impacts to their access during construction. 
This project is funded through a partnership between the City of Independence and MoDOT and is currently estimated at $5 million.
Image
Project Plans & Timeline
Project Plans
Timeline

Construction is anticipated to begin in winter 2022/2023 with an anticipated completion in summer 2024.
Virtual Meeting Information
JUNE 15-30, 2021
MoDOT hosted a virtual public information meeting for this project between June 15 and June 30, 2021. If you need more information, please refer to the contact information available on this page.
Image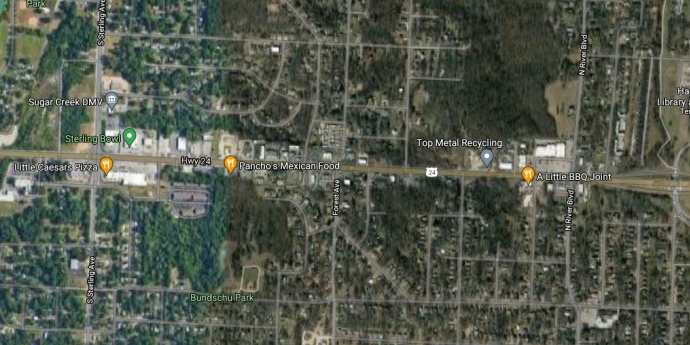 Need More Information?
We're here to help. If you need additional information, you may contact MoDOT Kansas City Area Engineer Matt Killion or Project Manager Juan Yin.
Matt Killion, MoDOT Area Engineer
Juan Yin, Project Manager
MoDOT Customer Service Line: 1-888-275-6636