Counties Impacted
Buchanan
Work Type
Environmental Impact Study
Image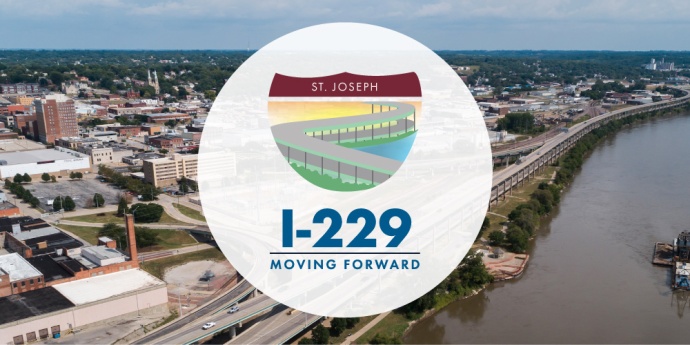 I-229 Moving Forward
I-229 is a corridor that carries traffic through downtown St. Joseph on the Double-Decker Bridge along the Missouri River. The bridge is 40 years old with an expected lifespan of 50 years, so it is time to plan now for a long-term solution for the bridge.
Project Timeline
I-229 Moving Forward Goals:
MoDOT is conducting an Environmental Assessment (EA) on the I-229 Double-Decker Bridge. An EA is a study required by the National Environmental Policy Act (NEPA) for federally-funded projects and ensures a sound, well-researched decision is reached. An EA consists of the technical evaluation of human and natural environmental impacts, both positive and negative, associated with the alternatives for the project and whether those impacts are significant or not. So why is MoDOT conducting an EA study of the Double-Decker?  
The bridge is nearing the end of its expected life: the expected lifespan of the bridge is 50 years. The bridge is currently 40 years old. 
The bridge is rated in poor condition:  despite ongoing maintenance the bridge continues to deteriorate and is rated in poor condition - the equivalent to a C- grade. 
Current structural problems on the bridge will be difficult and costly to repair: if the bridge was rehabilitated, it would either need a second rehabilitation or a complete replacement in approximately 25 years - with an estimated cost around $200 million. 
Traffic volumes don't support the need for the current bridge structure: the amount of traffic using the bridge doesn't require a four-lane, elevated structure. At the time the bridge was conceptualized, a higher volume of traffic was expected to travel I-229 than does today. 
The economic development of St. Joseph's downtown and riverfront is more challenging with the current bridge in place: the current bridge is not compatible with the City of St. Joseph's current vision for riverfront development and continued growth. 
I-229 Moving Forward Project Purpose and Need:
Resolve bridge deficiencies
Provide a long-term solution for the condition of the I-229 Double-Decker Bridge
Maximize travel mobility, accessibility and safety 
Travel Safely
Ease of moving freight
Downtown accessibility 
Complementary to, and compatible with, local land use plans
Downtown revitalization
Reconnecting the riverfront
Image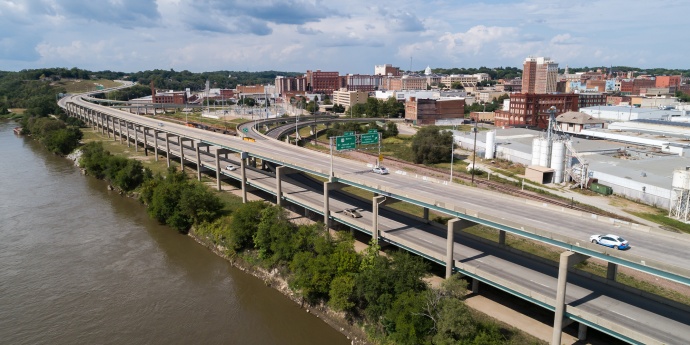 The Alternative Options:
Through continued conversations with the City of St. Joseph, St. Joseph's Metropolitan Planning Organization and local stakeholders, the study has determined that four alternatives best meet the project needs of:
Improved Mobility and Safety
Reduce Cost
Promote Development
The purpose of this study, and the alternatives developed as part of the study, is to ONLY address the corridor in which a new structure and/or roadway would follow. Considerations such as traffic control, ramp placement, architecture and beautification are not planned for in the EA study process. These would be addressed in the final design process which would include opportunity for public comments concerning these roadway topics.
View Alternatives
Project History
Project Timeline

View the project timeline and learn about project history, where we are now, and future.
Alternatives History

View all alternatives which are no longer under consideration based on stake holder feedback and the relative advantages and disadvantages outlined in the matrix.  
I-229 Moving Forward News
St. Joseph, Mo. – The Interstate 229 Double-Decker Bridge in St. Joseph is now open including all on/off ramps. Crews from the Missouri Department of Transportation completed emergency and regularly scheduled maintenance work today, Aug. 11.

On...

St. Joseph, Mo. – The Interstate 229 Double-Decker Bridge in St. Joseph will be closed from Highland Avenue to U.S. Route 36, including all on/off ramps, beginning Monday morning, Aug. 7. Crews from the Missouri Department of Transportation had...
Image
Public Input Opportunity
Alternatives public meeting opportunities: 
In-person:  An in-person public meeting was held on Thursday, Sept. 1, 2022, from 4 to 6 p.m. at the Remington Nature Center (1502 McArthur Drive, St. Joseph). 
Virtual:  A virtual public meeting room was available on this site (modot.org/stjoe229) through Sept. 30, 2022. 
Formal public hearing: expected Winter 2023.
To stay connected with the project, continue to visit this website for updated information or sign up for email updates using the form below.  
Image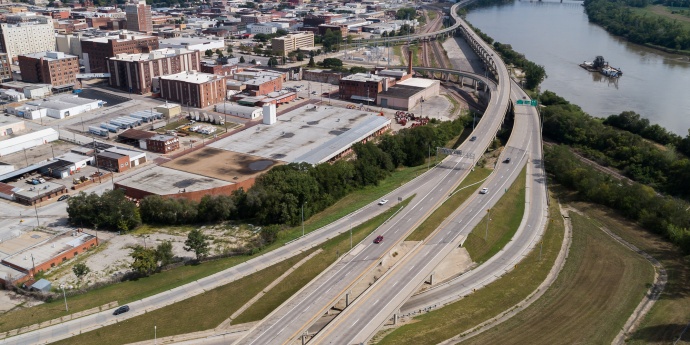 Need More Information?
We're here to help. If you need additional information, you can contact us at: