Project Status
Planning Phase
Route Impacted
Interstate 70
U.S. Route 63
Improve I-70 Columbia
I-70 is a vital lifeline for moving people, goods, and information across Missouri and beyond. This interstate was constructed more than 50 years ago, and with the availability of additional federal and state funding, now is the time to make it fully functional for the demands of the 21st century.
Outside of Kansas City and St. Louis, Columbia is the largest city along I-70 in the state, with over 125,000 residents. Columbia is home of the University of Missouri-Columbia, which has an enrollment of 26,000 students and is the city's largest employer.
Image
Original Improve I-70 Columbia Goals
Enhance user safety
Accommodate existing and future traffic volumes
Improve outdated I-70 design elements
Accommodate all users of I-70
What's Happening? 
MoDOT is conducting a study with its consultant team to identify ways to improve the interstate as it crosses through Boone County. This section of I-70 is an 18-mile stretch from just east of Route BB (Exit 115) and just east of Route Z (Exit 133).  For the purposes of this study, this area is broken into three distinct sections. 

West: Just east of Route BB to just west of MO 740 (Stadium Blvd.)
Central: Just west of Stadium Blvd. to just east of the I-70/Route 63 interchange (Connector)
East: Just east of the Connector to just east of Route Z
The study team is currently reviewing strategies to improve aging infrastructure throughout these sections, as well as possible solutions to improve the interstate through Columbia. This includes the Connector as well as interstate crossings at: 
Boone County Routes J and O
U.S. Route 40
Stadium Blvd.
Business Loop 70
MO 163 (Providence Road)
MO 763 (Rangeline Road)
E. St. Charles Road
Boone County Route Z
The MoDOT Central District, in coordination with the Federal Highway Administration, are in the process of re-evaluating the Environmental Impact Statement (EIS) of I-70 from just east of Route BB to just east of Route Z in Boone County. A National Environmental Policy Act (NEPA) re-evaluation is necessary because the final EIS document was completed over 15 years ago, and the existing conditions, possible solutions, potential impacts, and related mitigation measures may have changed. 
What is an Environmental Study Re-Evaluation? 
An environmental study re-evaluation is a process to review the environmental impact categories and commitments to ensure that any recent changes to the corridor are incorporated into the document. 
During the current phase of work, these are the primary objectives: 
Evaluate previous preferred alternatives to determine which elements are still valid and which ones will no longer meet the needs of the corridor.
Re-evaluate potential impacts of the previously determined preferred alternatives, current conditions and related mitigation measures that may have changed.
Engage with stakeholders to provide a project status and obtain important feedback.
Prepare the project to move forward into design.
Image
Image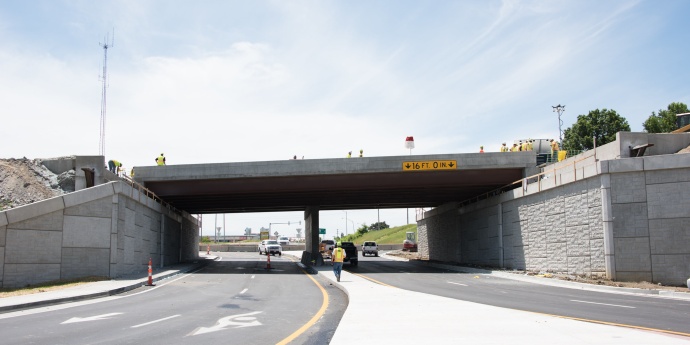 Timeline
EIS Re-Evaluation - In-Progress
Stakeholder Coordination - In Progress
Public Outreach - June/July 2022
Preliminary Design - 2023