Project Summary
Why is MoDOT undertaking this project?
Between 2011 and 2018, there were three crashes which resulted in four fatalities at the intersection of U.S. Route 69 and Route 116 in Clinton County. Enhancements such as advanced signing were added during those years, but another crash on Jan. 21, 2019 resulted in another fatality. 
Following the January 2019 crash, the intersection was reevaluated and further enhancements were made. These included additional rumble strips and adding shoulder barricades with stop-ahead warnings. At that time, safety funding was designated for improvements to this intersection as part of the Statewide Transportation Improvement Program (STIP).
After additional study, a roundabout was selected for this interchange. According to the Insurance Institute for Highway Safety, a roundabout can reduce fatal and incapacitating collisions by 89 percent. Some of the features of a roundabout versus a typical intersection that contribute to this reduction are: reduced traffic speeds, smaller collision angles, and fewer conflict points. A typical intersection may have 20 to 30 conflict points, whereas a roundabout only has eight.
The project, just east of Interstate 35 near Lathrop,  is currently set to be constructed in a single construction season in 2022. Three of the four legs of the intersection will remain open throughout much of the construction, but with reduced speeds and turning restrictions. See more details below, including a video on navigating through a roundabout.
On this page you can:
Sign up for project-specific updates at the bottom of this page
Counties Impacted
Clinton
Project Status
Planning Phase
Route Impacted
U.S. Route 69
Missouri Route 116
Project Progress
Complete
Design, Right of Way Acquisition and Public Input Phase
Complete
Online Public Meeting and Live Call-In Sessions
Due to COVID-19 precautions, no in-person public meetings were held for this project. An open-comment period was held Feb. 3 - 19. A live call-in session was held at two different times on Feb. 16, and comments were accepted by phone, mail and via this website through Feb. 19.
Complete
Project Bidding and Award
The project was part of the August 2021 letting when contractors were able to submit competitive bids on the project.
The Missouri Highways and Transportation Commission considered all bids and awarded the project at their September 2021 meeting to Amino Brothers Co. Inc.
In Progress
Contractor May Begin Work
The project currently has an Oct. 4, 2021 Notice to Proceed date in the contract. This is the earliest date a contractor may begin work, unless they request an early Notice to Proceed.
For this project, however, the contractor will not begin work until spring 2022, as construction cannot be sustained through the winter months. We project a start date, with a closure of U.S. Route 69 to the south of the intersection, during or after March 2022.
The exact day construction begins, and the closure of the south leg of U.S. Route 69, will be determined at a later date and announced both on this page and through regular and social media channels.
Not Started
The project will be conducted in three phases:
Bypass construction

Roundabout construction

South leg construction
It is estimated that construction will take approximately 135 calendar days to complete all three phases of the project.
See more details about each phase details.
Not Started
The contractor has one construction season to complete the project, by contract, and all work must be finished by Nov. 1, 2022.
Image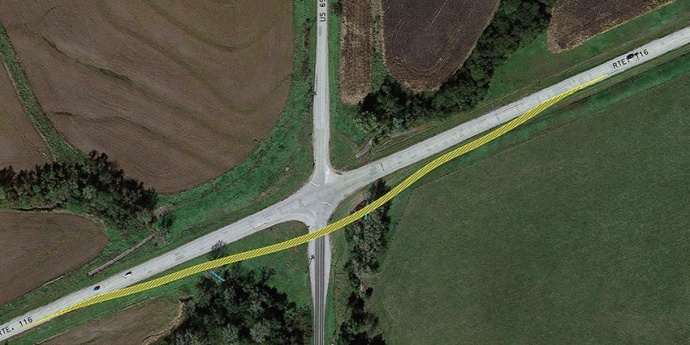 Phase 1
Bypass construction
A single-lane bypass for Route 116 traffic will be constructed on the south side of the intersection.
During Phase 1:

Route 116 and U.S. Route 69 north of Route 116 will be open to two-way traffic, though lane shifts may be necessary.
U.S. Route 69 south of Route 116 will be closed.
Phase 1 Plans
Image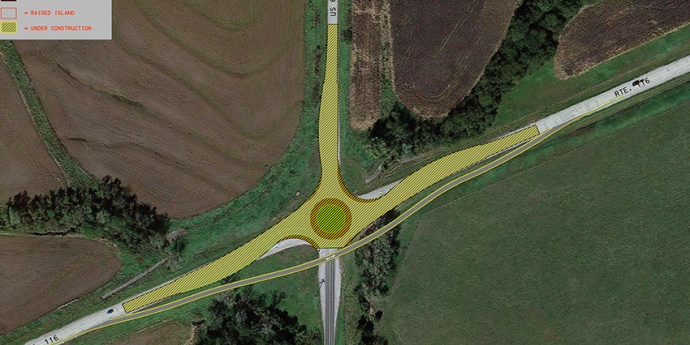 Phase 2
Phase 2 - Roundabout construction
The roundabout, including truck aprons and islands, will be constructed north of the bypass
During Phase 2:

Route 116 traffic will be moved to the single-lane bypass with signals at either end to regulate the flow of traffic.

Traffic on Route 116 will not be permitted to turn either direction onto U.S. Route 69.

Both directions of U.S. Route 69 will be closed, with no access to Route 116
Phase 2 Plans
Image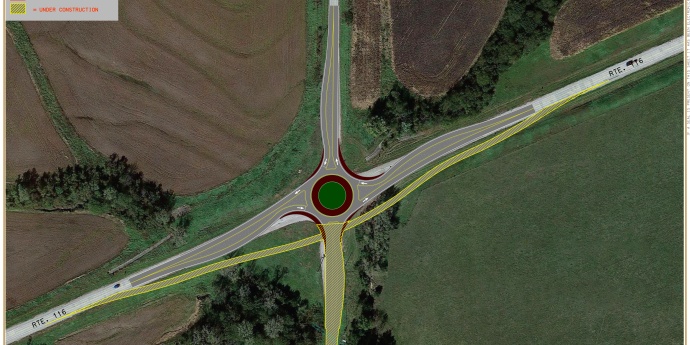 Phase 3
Phase 3 - South leg construction
The south leg of U.S. Route 69, south of the roundabout, will be constructed.
During Phase 3:

Route 116 and U.S. Route 69 north of Route 116 will be open to two-way traffic.
U.S. Route 69 south of Route 116 will be closed
Phase 3 Plans
Frequently Asked Questions
Will MoDOT close the road during construction?
Yes and no.
Route 116 will remain open for the duration of the project, though it will be reduced to a single lane (with traffic signals) during Phase 2.
U.S. Route 69 north of Route 116 will be open in Phases 1 and 3, but closed in Phase 2.
U.S Route 69 south of Route 116 will be closed for all three phases.
Will MoDOT need to acquire any right of way?
Yes. MoDOT will be contacting property owners adjacent to the intersection regarding permanent acquisitions, permanent easements and temporary easements.
How long will construction take?
It is estimated that construction will take 135 calendar days, but this is subject to change.
Who can I contact if I have further questions?
Questions about the project may left by calling 888 ASK MODOT (1-888-275-6636).
How can I stay updated on the project's progress?
Sign up for project-specific updates using the form below.