In an effort to educate and inform Missourians on the current status and future direction of their transportation system, the Citizen's Guide to Transportation Funding takes the complex issues of the state's transportation revenue, expenditures, system condition and unfunded needs and explains them in clear and easy-to-understand terms.
Personal Cost Calculator

This calculator assesses approximately how much you contribute in taxes and fees to support the transportation system you use.
Image
Overview
Missouri's transportation revenue totaled over $2.5 billion in fiscal year 2019. Nearly two-thirds came from state user fees and one-third from federal revenue.
See The Method
Image
How Does Missouri Compare?
Missouri has the 7th largest transportation system in the country but ranks 48th in revenue per mile. Almost all of our neighboring states are beating us in investing in transportation.
See The Comparison
Image
Where Is The Money Invested?
Many citizens don't know that the state shares funds with cities, counties, and other state agencies. When all is said and done only about 59% of revenue goes back to the state system.
Learn Where It Goes
The Missouri Constitution and state and federal laws determine how transportation funds are allocated to states, cities and counties.
Image
The Cost of Operations
The Operations budget supports services like mowing, pavement repair and maintaining traffic signals.
View the Costs
Image
Our Current Conditions
Missouri's highway system is basically maintained on three tiers based on traffic volume. Find out where each tier falls in regards to condition and what that means for Missourian's transportation future.
Current Conditions
Image
What is the Cost?
Vehicle repairs, tire wear, depreciation and congestion cost Missourians a lot more than you might think. Investing in Missouri roads could significantly reduce these costs.
Learn the Expense
When combined, congestion, additional vehicle operating costs and roadway crashes cost each Missouri driver about $196 per month. Additional investments in congestion relief, improving system conditions and safety can reduce these costs for Missourians.
Image
High-Priority Needs
Missouri falls short on funding several areas of the state transportation system. Maintaining roads and bridges doesn't allow for new projects or significant improvements of the infrastructure, all of which contribute to improved safety and economic growth.
See What We Need
Image
Cost of Added Benefits
Maintaining and improving the transportation system is expensive, but is a worthwhile investment. The average Missouri driver contributes about $30 per month to fund their access to the transportation system and the services MoDOT provides.
View the Breakdown
Image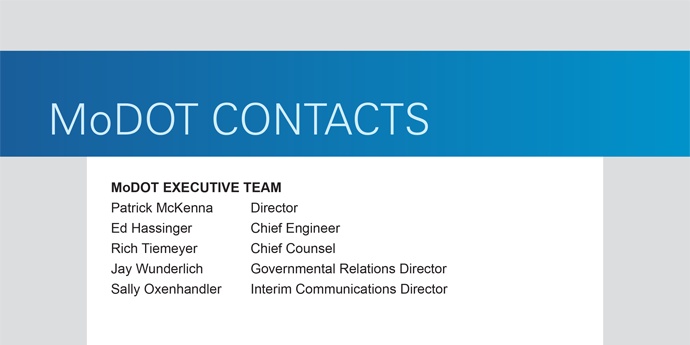 MoDOT Contacts
MoDOT's Executive Team, District Engineers, and Citizen's Guide team members.
See the Contacts