Image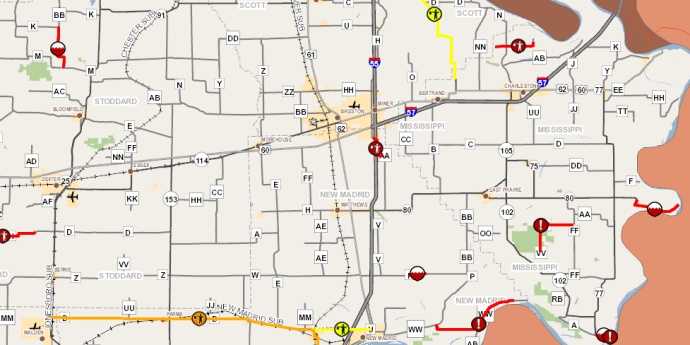 Traveler Information Map
Several roadways in the Southeast District are currently closed due to flooding. Conditions can change rapidly. Be alert to local forecasts and emergency communications. Please check the Traveler Information Map for the most up-to-date conditions. You can also call 1-888-ASK MODOT (275-6636) to speak to a customer service representative.
Traveler Info Map
Image
Roadways Closed Due to Flood Damage
As floodwaters recede, crews are assessing roadways for potential damage. Route V V in Mississippi County and Route W in New Madrid County are currently closed due to flood damage. For updated closures due to flooding and flood damage, please visit the Traveler Information Map. 
Traveler Info Map
Image
Route 14 Slide in Douglas County
Route 14 is currently closed 8 miles west of Ava, Missouri, due to a slide. The slide was caused by the recent heavy rain. MoDOT is working to expedite plans for repairs.
Learn More
More Information
Safety Tips

If you are driving and come upon rapidly rising waters, turn around and find another route. If your route is blocked by barricades, find another route.
View Road Conditions

Learn more about upcoming conditions in your area by visiting the Traveler Information Map. The free map app is also available for smartphones by searching for MoDOT in the appropriate app store.