Counties Impacted
Nodaway
Project Status
Planning Phase
Route Impacted
Missouri Route 46
Proposed Project Timeline (Subject to change)
In Progress
Desing, Public Input and Right of Way Acquisiton Phase
MoDOT employees and consultants are working together to design four new bridges on Route 46 over Big Slu, Florida Creek, Stream and White Cloud Creek. A public information open house is planned for July 9, 4-6 pm, at the NW Missouri Regional Airport in Maryville.
Not Started
Contractors Bid on Projects
The projects are currently scheduled in the December 2019 letting. At that time contractors will be able to submit competitive bids for the projects.
Not Started
The Missouri Highways and Transportation Commission will review all bids and may award the contract to the lowest qualifying bidder at their January 2020 meeting.
Not Started
The Notice to Proceed date is the earliest the contractor may begin work on the project. This is currently scheduled for February 2020.
Not Started
A construction schedule will be established by the contractor and the Missouri Department of Transportation after the contract has been awarded.
Not Started
The contract completion date is Dec. 1, 2020.
Four bridges on Route 46 in Nodaway County set to be replaced
Image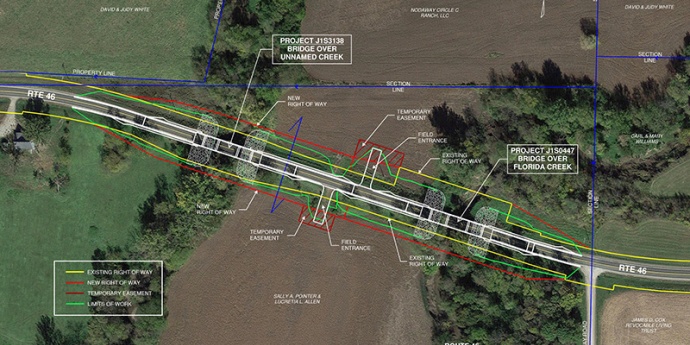 Planned Work at Florida Creek Bridge
This overview shows the proposed new right of way, temporary easements and other features of the planned work at the Florida Creek Bridge and the bridge just to its west.
Image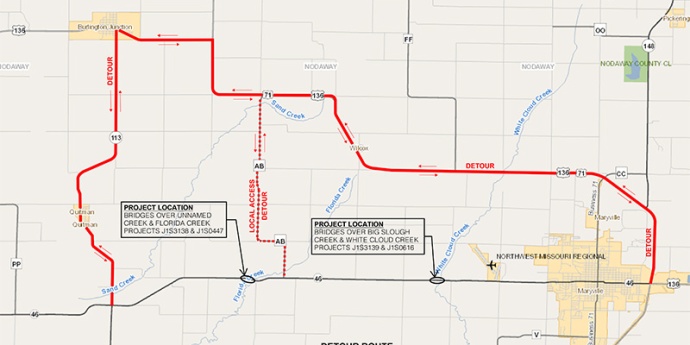 Proposed Detour Routes
Most traffic will be directed around the closures via a signed detour on Route 113 and U.S. Route 71. Local traffic may utilize Route AB between the bridge projects.
Frequently Asked Questions
Q: Why is MoDOT closing the road during construction?
A: Closing the bridges saves taxpayer money by allowing the contractor to work more efficiently and will result in a shorter construction period.
Q: How long will the road be closed?
A: The exact closure time has not yet been determined.
Q: What is the current proposed detour?
A: The proposed signed detour is over Route 113 and U.S. Route 71. Local traffic may plan to use Route AB between the bridges. See the map above right.
Q: Why not build a bypass?
A: Based on the cost/benefit ratio, building a bypass would not be a good use of taxpayer funds.
Q: Will MoDOT have to purchase any right of way?
A: Some right of way acquisition may be necessary for these projects. The Right of Way staff with the Missouri Department of Transportation will reach out to any property owners who may be affected. See an example of some proposed right of way above left.
Q: Who can I contact if I have further questions?
A: Questions about the project may be directed to Project Manager Joyce Reynolds.
Phone: Project Manager Joyce Reynolds
Email: Project Manager Joyce Reynolds
Q: How can I stay updated on the projects progress?
A: Sign up for project-specific updates below: