Project Status
In Progress
Image
Saturday Superintendent Talk - Les Bourgeois Vineyards in Rocheport, MO
These events will be held every third Saturday of the month at 9 a.m. through the completion of the Rocheport Bridge project.  Come see and hear more about the progress being made on the bridge from the project contractor. Each talk will highlight a segment of work currently taking place and why that work is necessary. 
October's SST will be held at The A-Frame at Les Bourgeois Vineyards in Rocheport, MO. 
Questions?
Image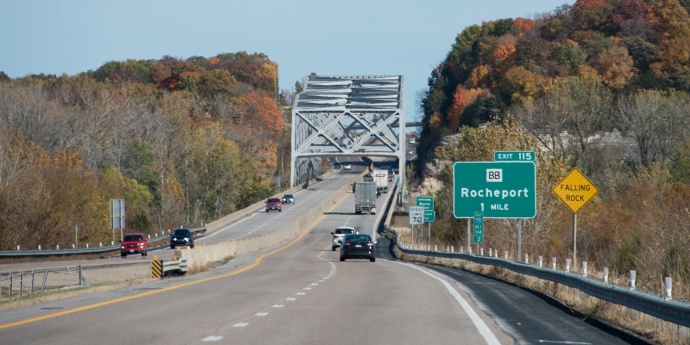 Rocheport Bridge Project Goals
Meet the expectation of delivering the project under budget
Provide a high quality, durable, low maintenance project that improves safety and reliability
Minimize traffic impacts during and after construction while maximizing safety and capacity
Maximize safety for workers while beating the project completion deadline of 12/31/24
Deliver the project with a diverse workforce that fosters future DBE and workforce development
Demonstrate a commitment to quality and innovation in all phases of the project
Project News
COLUMBIA, MO –Starting Tuesday, July 12, the Missouri Department of Transportation (MoDOT) will be transporting concrete trucks to the bridge utilizing the Katy Trail. This work is to continue pouring the drilled shafts for the foundation of the new...

COLUMBIA, MO –Starting Monday, April 25, contractors for the Missouri Department of Transportation (MoDOT) will be excavating rock from the East Abutment, adjacent to the Katy Trail to allow drilling for further structure excavation.

Due to the...

COLUMBIA – Motorists traveling on Interstate 70 will experience lane closures and delays at various times over the next several weeks as progress continues at the new Missouri River Bridge near Rocheport and on the replacement of the Sorrels Overpass...