About the I-70 Rocheport Bridge Replacement
Construction Scheduled to Begin in Late 2021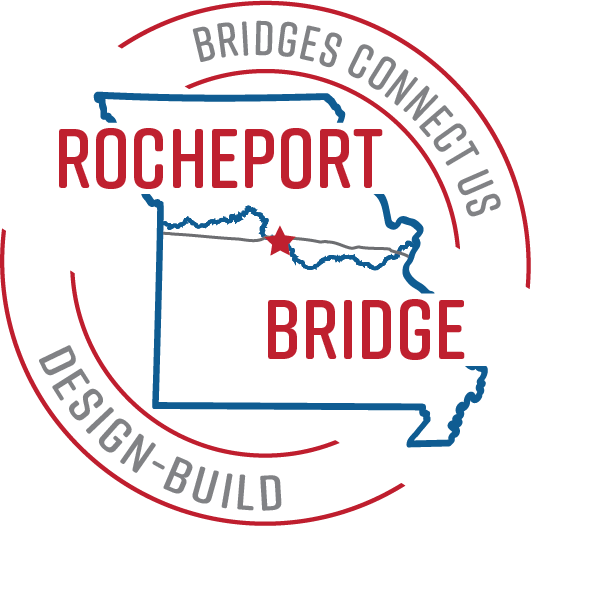 This bridge has been called the "lynchpin of America." It not only connects two counties in Missouri, Boone and Cooper, it connects Missouri's largest cities, St. Louis and Kansas City, and it connects a majority of the country. The bridge carries 12.5 million vehicles per year, including 3.6 million trucks. In fact, within 48 hours, trucks carrying goods to all 48 lower states will have crossed this bridge.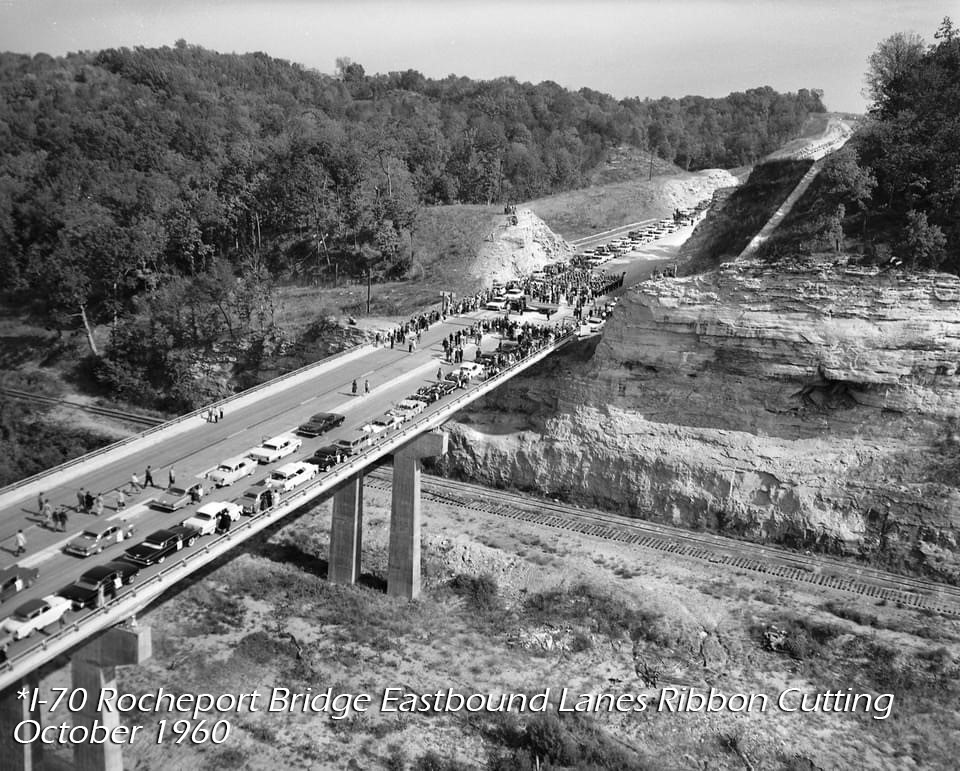 The current bridge was built in 1960. It is rated in poor condition, which could have resulted in weight restrictions in the coming years. Rehabilitation work would have only extended the life of the bridge by as little as 10 years and could have caused three-to-eight hour backups along I-70.
With a cost of approximately $240 million, the replacement of this bridge is certainly no small feat. It requires local, state and federal agencies and lawmakers working together to find funding and plan construction that will not hurt businesses who need to transport their products or local communities that rely on the bridge to go to work or school each day.
This will be a design-build project. Design-build is a delivery method that includes hiring one contracting team to complete the design and construction work under one contract. MoDOT provides the project goals, budget and schedule, and the contractor team conducts the work. This technique has been known to significantly save time and money. For more information about design-build or to see other similar project across the state, visit modot.org/design-build-information.
Below you will find more information on the funding and timeline for the bridge replacement, as well updates on the project's progress.
Project Goals
Meet the expectation of delivering the project under budget
Provide a high quality, durable, low maintenance project that improves safety and reliability
Minimize traffic impacts during and after construction while maximizing safety and capacity
Maximize safety for workers while beating the project completion deadline of 12/31/24
Deliver the project with a diverse workforce that fosters future DBE and workforce development
Demonstrate a commitment to quality and innovation in all phases of the project
Counties Impacted
Cooper
Boone
Project Status
Planning Phase
Route Impacted
Interstate 70
Project Timeline
Complete
Missouri Receives $81.2 million INFRA grant
The $81.2 million Infrastructure for Rebuilding America (INFRA) grant from the U.S. Department of Transportation enables a $240 million project to replace the existing four-lane I-70 bridge with a six-lane structure built just to the south of the current location, as well as reconstruct the Route BB interchange just east of the bridge. 
Complete
Re-Evaluation of Environmental Study
Complete
As part of preparations for the construction of the new bridge, contractors for the Missouri Department of Transportation will be gathered geo-technical data and survey information. The tests, which involve drilling holes beneath the surface, will provide valuable information about the area's rock and soil stability.
Complete
Early Release Information Provided to consultants and contractors
In anticipation of procurement in early 2021, MoDOT has prepared some Early Release Information for all consultants and contractors interested in pursuing the design-build contract. Any consultant or contractor may request access to this information by emailing RocheportBridge@modot.mo.gov or Project Director Brandi Baldwin at brandi.baldwin@modot.mo.gov.
Complete
A virtual open house was held on Tuesday, Jan. 26 from 5 p.m. to 6:30 p.m. to discuss the construction of the new Interstate 70 Missouri River bridge near Rocheport. MoDOT staff went over the scope of the project, as well as the timeline and goals. No design work has been done. That will be completed by the team that is retained to design and construct the project. 
Complete
Request for Qualifications Issued
The Request for Qualifications (RFQ) is now available.
A draft RFP is still available as well. Any consultant or contractor may request access to the SharePoint site where all shared project data is available by emailing RocheportBridge@modot.mo.gov.
Complete
Shortlist of Potential Project Contractors Announced
JEFFERSON CITY - Following an extensive evaluation process, four qualified teams have been selected to compete for the contract to design and construct a new Missouri River Bridge on Interstate 70 near Rocheport.
The Missouri Department of Transportation has received Statements of Qualification from potential design-build teams for the Rocheport Bridge project. Four 
"We are very pleased with the interest we received in working on the Rocheport Bridge project. The four short-listed teams are all very experienced and capable of producing a successful project," said Project Director Brandi Baldwin. "We look forward to moving forward in the process and selecting the final design-build team."
The following teams (in no particular order) were selected to further develop their proposals on the project:
Traylor-Ames Joint Venture Team - Traylor Brothers, Inc.; Jacobs Engineering Group, Inc.; Ames Construction, Inc.
American Bridge/Garver Team - American Bridge Company; Garver, LLC; Hg Consult, Inc.; Terracon
Rocheport Bridge Constructors - Massman Construction Company; HNTB Corporation; Emery Sapp & Sons, Inc.
Lunda Team - Lunda Construction Co.; Parsons Transportation Group, Inc.; Dan Brown & Associates; Hugh Zeng United
Not Started
Proposals will be due in June 2021. 
Not Started
Design-Build Team Selected by Missouri Highways and Transportation Commission
Not Started
Construction Begins on New Bridge
Image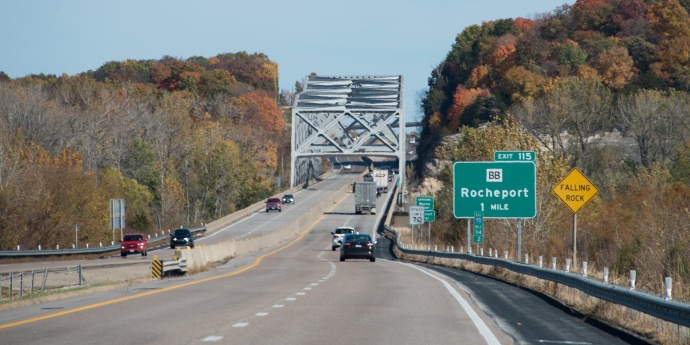 Virtual DBE Mixer - April 30, 2021
Friday, April 30, 2021 - 1-3:30 p.m.
The Rocheport Bridge Replacement team is hosting a virtual Disadvantaged Business Enterprise (DBE) mixer for DBE firms who are interested in working on the construction project. Also in attendance will be the short-listed design-build proposers for the project. Additional information will be provided to DBE firms that RSVP to the event. 
To enhance and facilitate the virtual meeting, firms are asked to:
RSVP no later than Monday, April 26 via the link below
Include a brief business marketing resume/brochure (maximum 1 page) with your RSVP for the short-listed proposers to review. This needs to include contact information, NAICS codes (including descriptions of each work type in the MRCC directory), and a list of past completed projects. 
Email addresses for the short-listed proposers will be provided to DBE firms registered for the event. 
Click here to join the meeting! 
RSVP Here!
Project News
BOONE/COOPER COUNTY – Motorists traveling along Interstate 70 will see some activity at the Missouri River Bridge near Rocheport this weekend.

As part of preparations for the construction of the new bridge, contractors for the Missouri Department...

 

Boone County – On May 18, 2020, MoDOT completed a National Environmental Policy Act (NEPA) re-evaluation of the 2005 Second Tier Final Environmental Assessment (EA), Finding of No Significant Impact (FONSI), and Final Section 4(f) Evaluation of...

COOPER/BOONE COUNTY - The Missouri Department of Transportation will hold a virtual open house on Tuesday, January 26 from 5 p.m. to 6:30 p.m. to discuss the construction of the new Interstate 70 Missouri River bridge near Rocheport.

Construction...
Image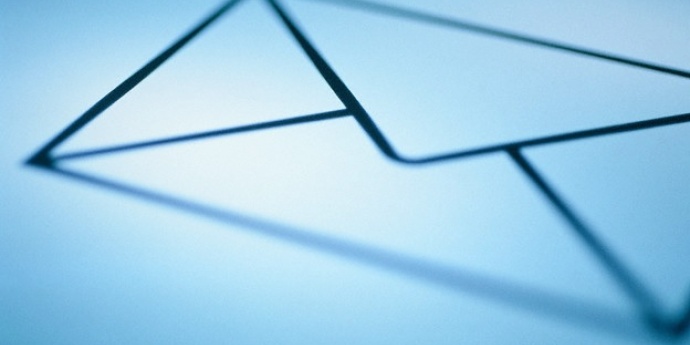 Subscribe to Email Updates
Get news and announcements about the Rocheport Bridge project sent straight to your inbox! Click the link below and fill out your information. Then go to the Central District section and click the checkbox for this project and any other routes or counties you'd like to hear more about! 
Click here to subscribe!