Interested in major road work in Southwest Missouri during 2021?
Click on any of the red lines/dots in southwest Missouri to learn more about major road projects planned for 2021. 
If you want a county by county listing, scroll down or print out the text version of 2021 Construction Guide. 
All projects are scheduled for completion during 2021 unless otherwise noted. 
Image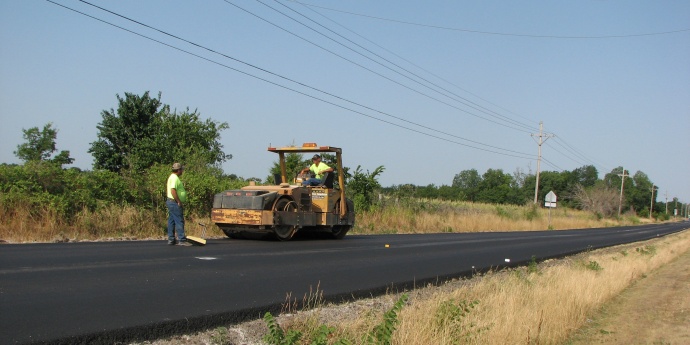 Image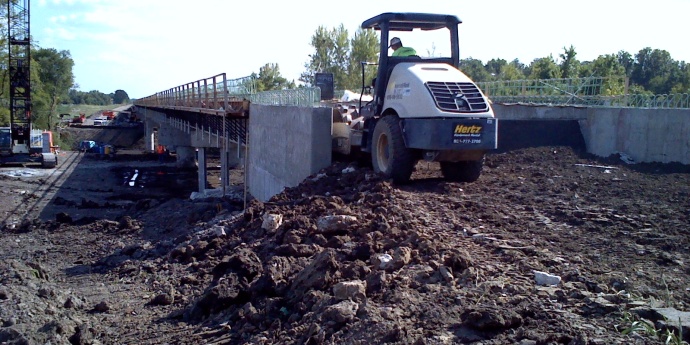 Barton County
I-49: Replace southbound bridge over North Fork Spring River south of Lamar
Route 37: Resurface pavement between Route 126 in Golden City and Route 96 near Avilla
Image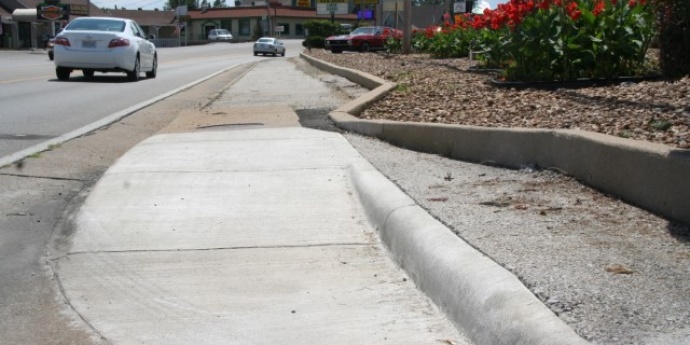 Bates County
Route 52: Sidewalk (ADA) improvements at various locations between 1st Street and 4th Street in Amoret
Route A: Resurface pavement and sidewalk (ADA) improvements at various locations between the Kansas state line and I-49 near Rich Hill
Route B: Rehabilitate bridge over Camp Branch near Rockville
Route F: Resurface pavement between Route J and Loop 49 in Passaic
Route J: Resurface pavement between the Kansas state line and Route F near Amsterdam
Route M: Replace culvert just north of the Osage River near Schell City
Route M: Rehabilitate bridge over Osage River north of Schell City
Route Y: Resurface pavement and sidewalk (ADA) improvements at various locations between Route 18 in Merwin and Route J in Amsterdam
Image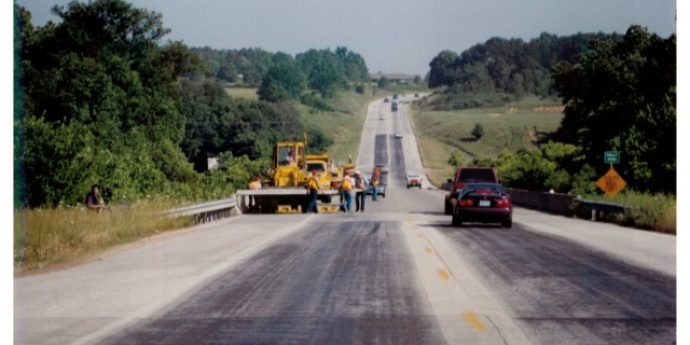 Benton County
Route 83: Rehabilitate bridge over Truman Reservoir near White Branch
Route 7: Rehabilitate bridge over Truman Lake west of Warsaw
Route H: Rehabilitate bridge over Route 65 south of Lincoln
Route H: Rehabilitate bridge over Cole Camp Creek east of Lincoln
Route H: Resurface pavement between Route 65 near Lincoln and Route B north of Lakeview Heights
Image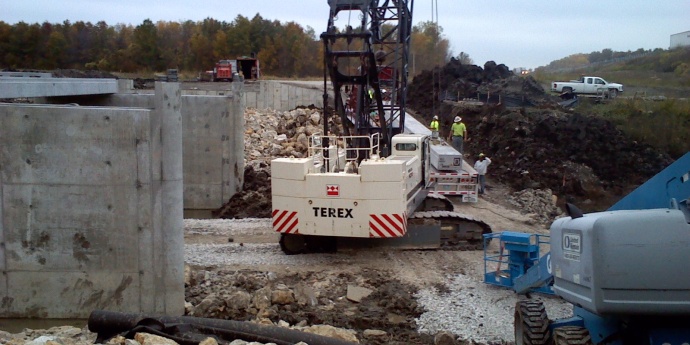 Cedar County
Route 82: Sidewalk (ADA) improvements at various locations between McCrary Street and Route 54 in El Dorado Springs
Route B: Resurface pavement between I-49 in Sheldon and Route 97 in Jericho Springs
Image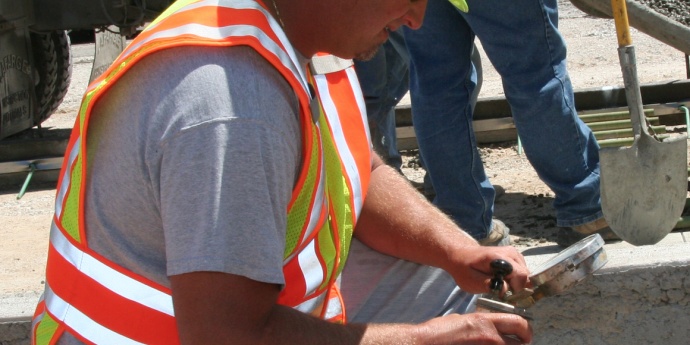 Image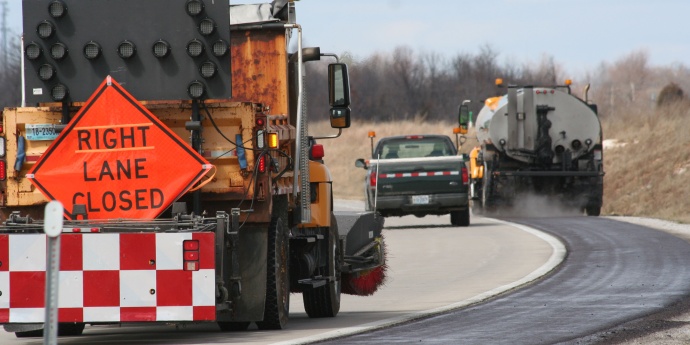 Dade County
Route 39: Rehabilitate bridge over Stockton Lake north of Greenfield
Route 245: Resurface pavement between Route 32 west of Fair Play and Route 160 south of Dadeville
Route M: Sidewalk (ADA) improvements between Main Street and Church Street in Everton
Image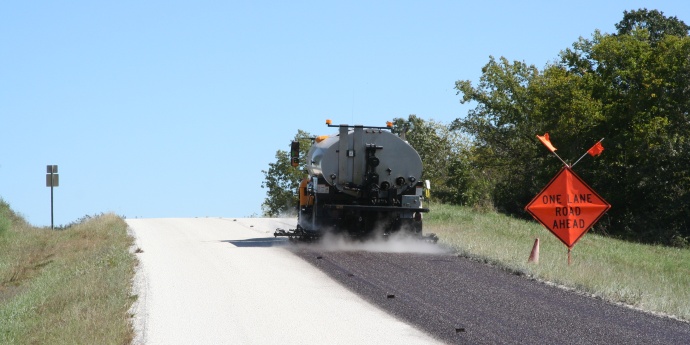 Image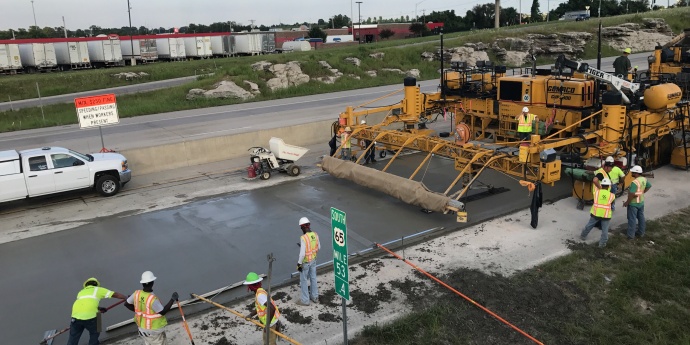 Greene County
I-44: Resurface pavement and improve ramps at Route 744/Mulroy Road in Springfield
Route 13: Resurface pavement between 565th Road west of Pleasant Hope and Norton Road in Springfield
Route 60: Resurface pavement between Business 65/Glenstone Avenue and Highland Springs Boulevard in Springfield
Route 60: Widen James River Freeway to six lanes and improve ramps between National Avenue and Route 65 in Springfield
Route 60: Interchange improvements at Business 65/Glenstone Avenue
Route 60: Resurface pavement between Illinois Street and Route 413 in Republic
Route 60: Improve intersection at Route 174 in Republic
Route 60: Railroad crossing safety improvements between Greene County Road 194 and O'Neal Street and various locations in Republic
Route 65: Seal bridge over Sunshine Street in Springfield
Route 266: Resurface pavement between Route AB north of Republic and Broadview Place in Springfield
Route 360: Seal bridge at Route 60 in Republic
Route 413: Sidewalk (ADA) improvements between Illinois Street and Route 174 in Republic
Route 413: Sidewalk (ADA) improvements on Sunshine Street between Scenic Avenue and Kansas Expressway in Springfield
Route 744: Seal Mulroy Road interchange bridge in Springfield
Route B: Resurface pavement between Route 266 and I-44 north of Republic
Route D: Rehabilitate bridge over James River east of Springfield
Route H: Resurface pavement between Route 32 in Halfway and Stoneridge Street north of Springfield
Route O: Resurface pavement between Jackson Street in Willard and Route 13 north  of Springfield
Route AA: Resurface pavement between Route H and Route 65 north of Springfield
Route BB: Resurface pavement between Route 123 in Walnut Grove and Route 13 north of Springfield
Route KK: Resurface pavement between Route H and Route 65 north of Springfield
Route MM: Resurface pavement between I-44 and Route 60 in Republic
Route ZZ: Seal pavement on Wilson Creek Boulevard between Route M and Farm Road 194 east of Republic
Kansas Expressway: Rehabilitate bridge at Route 60 in Springfield
Image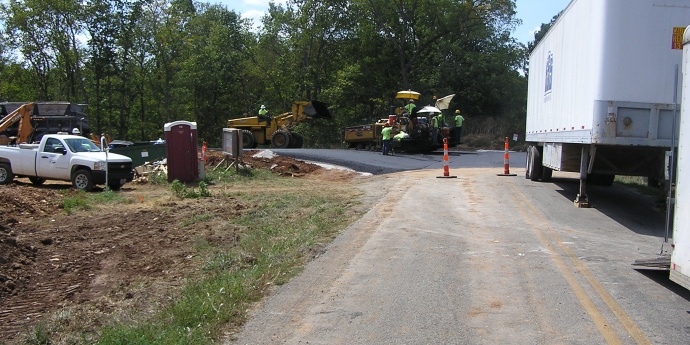 Henry County
Route 2: Resurface pavement between NE 1400 Road south of Leeton and Route WW in Windsor
Route 7: Resurface pavement between Route PP in Tightwad and Route 65 in Warsaw
Route Y: Resurface pavement between Route 52 in Windsor and Route C in Roseland
Image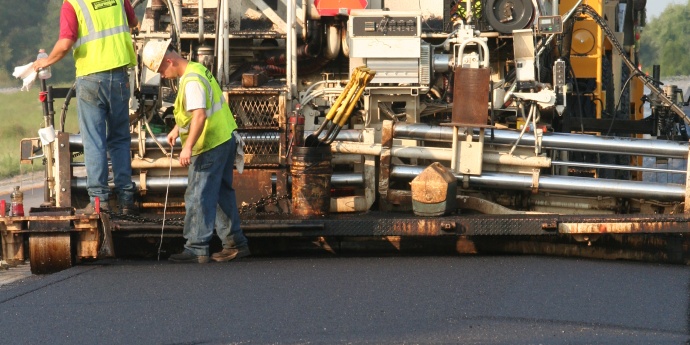 Hickory County
Route 64: Rehabilitate bridge over Pomme de Terre Lake near Nemo
Image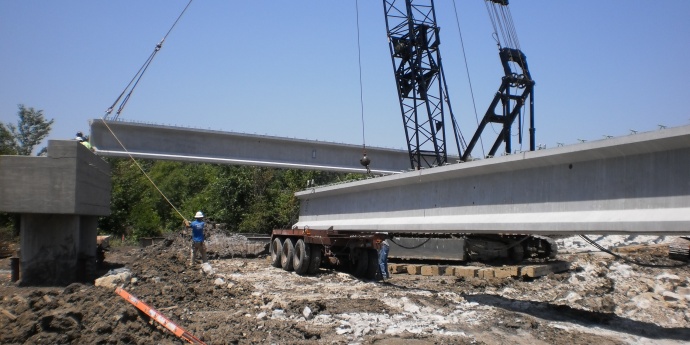 Jasper County
I-44: Resurface pavement at Route 66/Loop 44 east of Duenweg
I-49: Rehabilitate northbound bridge over railroad north of Jasper
I-49: Rehabilitate northbound bridge over Coon Creek north of Jasper
I-49: Rehabilitate bridges over Opossum Creek south of Jasper
I-49/Route 249: Resurface pavement between I-44 and Route FF/32nd Street in Joplin
Route 171: Resurface pavement, intersection improvements and sidewalk (ADA) improvements at various locations between Kansas state line and I-49 in Carthage
Route 171: Build roundabout at Route 96/Route YY intersection north of Carl Junction
Route 249: Rehabilitate northbound bridge over I-44 in Joplin
Route 249: Rehabilitate bridges over railroad and Route 171 in Carterville
Route 571: Build roundabout at Garrison Avenue/Fairlawn Avenue/Elk Street intersection in Carthage
Route O: Resurface pavement and sidewalk (ADA) improvements at various locations between Route D in Alba and Route 96 east of Oronogo
Route FF: Rehabilitate bridges over I-44 and I-49 in Joplin
Image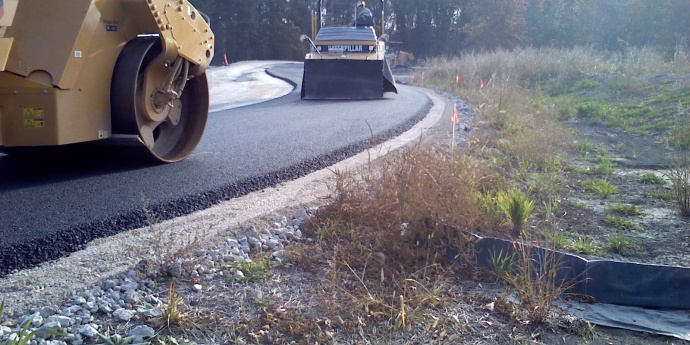 Image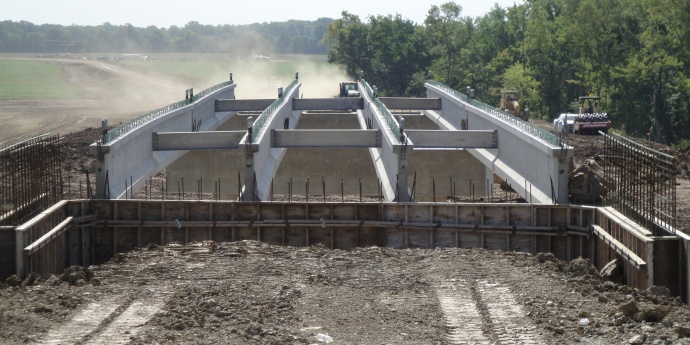 Image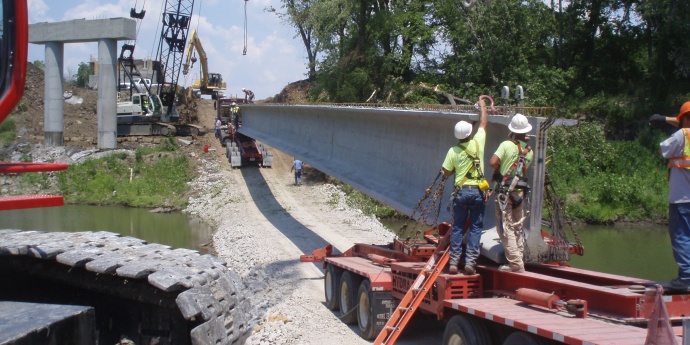 Newton County
I-49: Resurface pavement between Shoal Creek and Route 175 south of Joplin
I-49: Resurface pavement between Iris Road and Kentucky Road north of Neosho
Image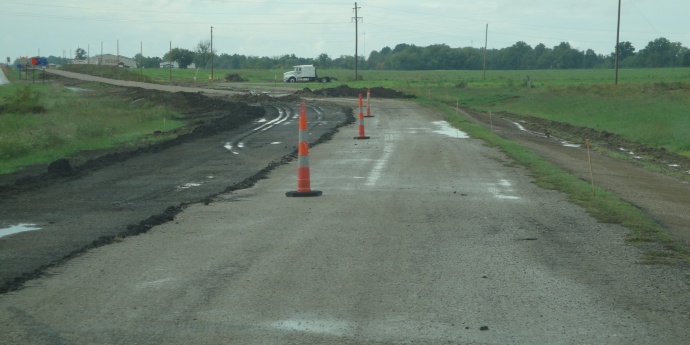 Polk County
Route 13: Resurface pavement between Route UU in Collins and 565th Road west of Pleasant Hope
Route 32: Resurface pavement and sidewalk (ADA) improvements between Route 13 and Route D in Bolivar
Route 83: Resurface pavement and sidewalk (ADA) improvements on Springfield Avenue between Route 32/Broadway Street and Route 13 in Bolivar
Route 123: Replace bridge over Barren Creek south of Fair Play
Route 215: Sidewalk (ADA) improvements between Maple Street and North Main Avenue in Morrisville
Route H: Resurface pavement between Route 32 in Halfway and Stoneridge Street north of Springfield
Route H: Sidewalk (ADA) improvements on Main Street between Cowden Street and Adams Street in Pleasant Hope
Route J: Replace culvert over Brush Creek north of Halfway
Route HH: Replace culvert over Ingalls Creek south of Route AC west of Urbana
Route KK: Resurface pavement between Route 13 and Route H in Pleasant Hope
Image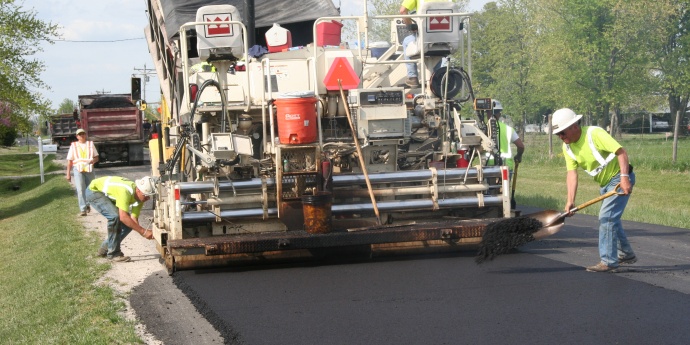 Image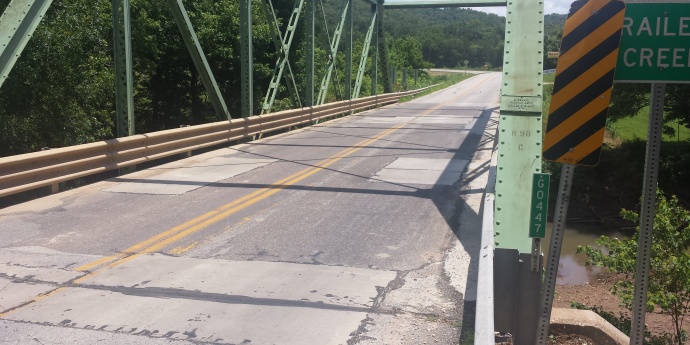 Image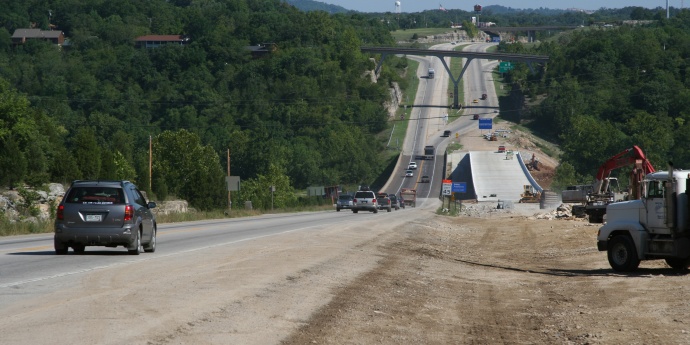 Taney County
Route 65: Rehabilitate bridges over Lake Taneycomo between Branson and Hollister
Business Route 65: Turn lane, traffic signal and sidewalk (ADA) improvements at Gage Drive/Industrial Park Drive in Hollister
Route K: Resurface pavement between Route 76 in Kirbyville and end of state maintenance
Route P: Resurface pavement between Route 265 south of Hollister and end of state maintenance
Route MM: Resurface pavement between Route 76 in Mildred and end of state maintenance
Route VV: Resurface pavement between Route 76 east of Kirbyville and end of state maintenance
Image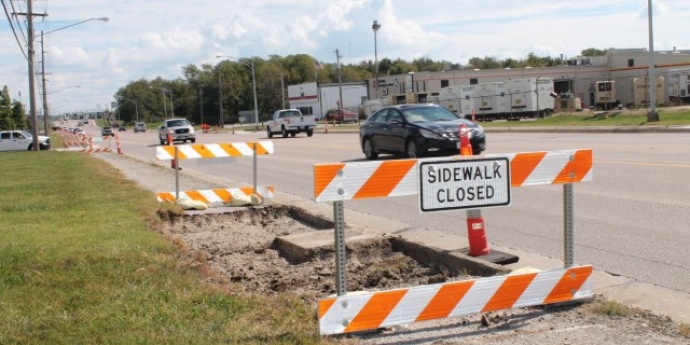 Vernon County
I-49: Replace southbound bridge over railroad in Nevada
Route 54: Rehabilitate bridge and sidewalk (ADA) improvements over railroad in Nevada
Route 54: Resurface pavement between Kansas state line and Webster Street in Nevada
Route B: Resurface pavement between I-49 in Sheldon and Route 97 in Jericho Springs
Route K: Replace bridge over Camp Branch east of Bristow
Route M: Rehabilitate bridge over Osage River north of Schell City
Route BB: Replace bridge over Moore Branch south of Nevada
Route FF: Rehabilitate bridge over Drywood Creek west of Bronaugh
Image