MoDOT has expanded and upgraded its Traveler Information Map mobile app. Now Missouri travelers can get the latest information on road conditions, work zones, flooding and incidents on their iPhones, Androids, iPads and tablets. The Traveler Information App offers the same info as its online big brother, the Traveler Information Map, but with the convenience people have come to expect with the mobile revolution.
When the map loads, users see the entire state at a glance and can now zoom in for a better view by using the "pinch and zoom" feature. Work zones affecting traffic are loaded as a default, but users can view road conditions, traffic cameras and weather by tapping the appropriate buttons. Radar images supplied by the National Weather Service are updated every 10 minutes, so travelers can keep an eye on continuously changing weather conditions and plan their trips accordingly.
Information is updated continuously throughout snow and ice events. For incidents, work zones and flooding, visitors can tap on icons for more information on delays.
Easy to use, easy to install, the app is available at both the iPhone App Store and Android Marketplace. And if drivers want more information not offered on the map, MoDOT's customer service phone number is just a tap away!
Image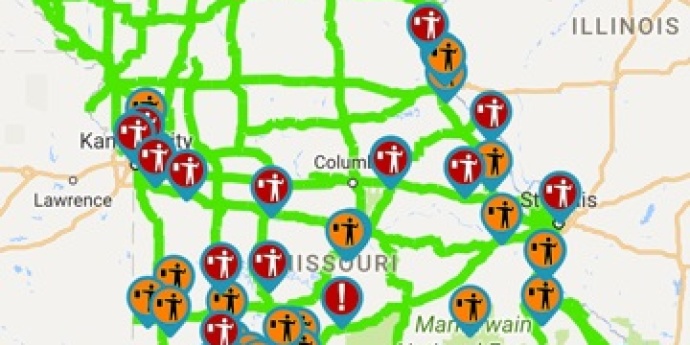 The Traveler Information Map is only one tool Missouri travelers should use when driving across the Show-Me state. Local weather reports and law enforcement alerts should also be a part of any traveler plan, especially during the winter months.
As always, MoDOT urges people to not use their mobile device while driving!