Project Status
Planning Phase
Route Impacted
U.S. Route 63
Project Timeline
Project Details
The Missouri Department of Transportation plans to improve the intersection of Route 63 and Route 19/Business Route 63 in Thayer, Missouri.
The project will include modifying the existing right turn lanes, constructing islands and adding stop bars to the Route 19 and Business Route 63 approaches.
The project is expected to be let in January 2022, with construction beginning as early as spring 2022. Completion is anticipated in fall 2022.
Most of the construction will be completed with minor impacts to traffic, such as a reduced speed through the work zone. There will be times when traffic is reduced to a two-way, one-lane operation using flagger control.
Image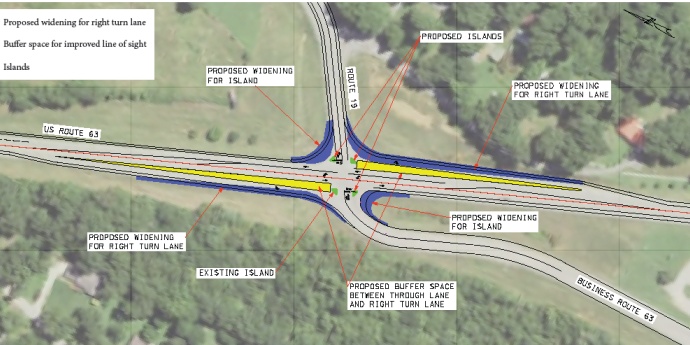 Project Handout with Aerial
To view an aerial of the proposed intersection improvements, please visit the link below. 
View the Aerial
Frequently Asked Question
Did MoDOT consider adding traffic signals in this location? 
During discussions with the community, the MoDOT project team was asked if traffic signals would be appropriate for this location.
Traffic signals are often chosen for operational reasons. Operational reasons relate to traffic flow, such as delays, operating speed and capacity. The concerns regarding the Route 63 and Route 19/Business 63 intersection are not related to operations.
In addition, MoDOT examined this intersection using the federal standards included in the Manual on Uniform Traffic Control Devices (MUTCD). This includes an analysis of traffic flow and traffic safety to determine if a traffic signal is warranted at a particular location.
The intersection of Route 63 and Route 19/Business 63 was analyzed according to the MUTCD, and none of the warrants for a signalized intersection were met. A traffic signal is not warranted by MUTCD standards.
Based on current traffic patterns, MoDOT plans to modify the existing right turn lanes and add stop bars to the Route 19 and Business Route 63 approaches. These improvements will help improve line of sight by offsetting the right turn lanes. In addition, the stop signs will be prominently displayed in the islands.
Contact Us
Contact Photo
Pete Berry
Department
Southeast District
Contact Photo
Craig Compas
Title
District Traffic Engineer
Department
Southeast District
Contact Photo
Elquin Auala
Department
Southeast District