Project Status
Planning Phase
I-70/Route 54 Kingdom City Interchange Study & Re-Evaluation of Environmental Assessment
UPDATE: This study has been completed and the project has been added to the Statewide Transportation Improvement Program. It is scheduled to be awarded in 2026. This page will be updated as more information becomes available.
The US-54/I-70 interchange serves popular destinations in mid-Missouri, including Jefferson City and Lake of the Ozarks, and features numerous services for car and truck traffic. Over the years, development has strained the interchange's capacity and reduced the effectiveness of access points along US-54. Other factors impacting capacity include the nearby North Callaway School Campus and the potential addition of a distribution center to the northwest.
The Missouri Department of Transportation (MoDOT) is working with a consultant team to prepare a traffic and safety study that will explore improvements to the interchange of Interstate 70/U.S. Route 54 in Callaway County. The goal of the study is to identify a preferred alternative design for the interchange that improves safety and mobility through the corridor, provides access to nearby businesses and promotes economic growth in Kingdom City, Missouri.
FAQ
When will the study take place? The study kicked off in August 2021 and is scheduled to conclude in May 2022. Public comments on the preferred alternative are being accepted via the webform below through March 15. 
How much will the project cost? Estimated construction cost is $6,695,000.
Project Milestones
Complete
Improve I-70 Study Final Second Tier Environmental Assessment
May, 2005
As part of their Improve I-70 Study Final Second Tier Environmental Assessment (May 2005), MoDOT selected a preferred alternative that entailed modifying the ramps and relocating the US-54 median crossings further from I-70. Other alternatives included offset alignments and a variety of interchange types. Primary concerns were impacts to local businesses and restrictions related to the Kansas City Southern Rail line paralleling US-54 just west of the interchange.
Complete
Re-Evaluation of Environmental Assessment Public Comment Period
September 10-October 11, 2021
The public was invited to comment on the re-evaluation of the environmental assessment completed in 2005. 
Complete
Preferred Alternative Public Comment Period
February 15-March 15, 2022
The Missouri Department of Transportation is inviting the public to review and provide feedback on proposed changes to the interchange in Kingdom City.
Complete
Project added to Statewide Transportation Improvement Program
Summer 2022
https://www.modot.org/statewide-transportation-improvement-program-stip
Not Started
Project Award
2026
Image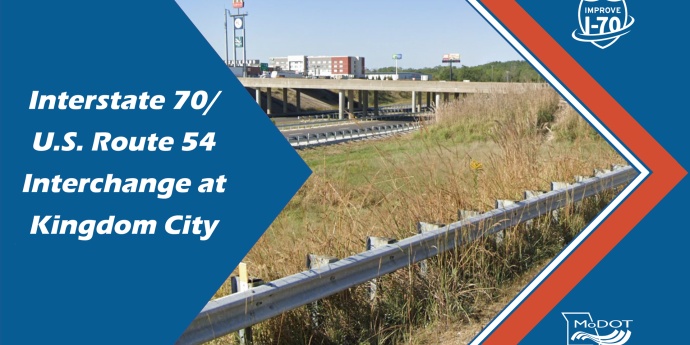 Kingdom City Interchange Study Presentation
This presentation provides more details regarding the proposed alternative for the I-70/Route 54 interchange in Kingdom City. Please review this information and provide comments, questions, or feedback via the form below or by calling 1-888-ASK MODOT. 
View the Presentation